Emergency calling is something every good phone administrator should be prepared for. All too often, however, it is overlooked. The reality is that 99.9% of the time you don't need it, but when someone has an emergency, this view changes dramatically. It is critical that emergency services are able to identify where the call originated so they can reach the emergency location as quickly as possible.
An example could be a business with multiple floors. An employee, let's call him Ron, has chest pain. He picks up his phone and dials 911. The system routes him out to the local PSAP (public safety answering point), and he quickly communicates that he is having chest pain, but then he passes out in his office. Ron has communicated his problem but is now unable to communicate exactly where he is in the building. The first responders arrive on site and announce they have an emergency call originating in the business, possibly someone named Rod? The front desk becomes flustered and says there is no Rod; it must be a mistake. After pressing on, they figure out it is probably Ron and rush to his second floor office to find him in critical condition. With proper planning the emergency responders can know exactly where to find Ron, and your staff can be notified and prepared to receive them, caring for him until arrival.
Out of the box your ShoreTel Partner should have setup basic 911 functionality. The minimum level includes assigning CESID (Caller Emergency Service Identification) to groups of users based on their location. This ensures that when the emergency call comes, it is routed to the correct PSAP, and they can identify your address. The first responders won't know the physical location of the individual, but they will be at the right address. This simple setup is perfect for a small office where everyone can see each other, but it falls short for larger offices or even those with multiple offices.
In addition to the standard CESID settings, you can also add internal notification systems provided by ShoreTel. The 911 Emergency Notification application from ShoreTel will provide real-time alerting of any 911 or code blue call by sending messages to PCs, calling phones, and providing an alert on the physical phone. This notification should go out to key personnel, managers, front desk, line of business leaders, etc. This allows them to see the emergency and where it is originating from in real-time while opening lines of communications for your response team to ensure an expedited medical response. The alert will show the caller, the location and the time, forcing you to acknowledge it. Until you do, it will keep reaching out. It is then the responsibility of co-workers to provide an exact location of the emergency to the safety personnel. For larger campus environments and multi-site organizations this is a strong application that can save lives and protect your employees.

The most holistic approach to e911 would be partnering with E911 Enable, an ELIN (emergency location identification number) provider. This is a more costly service, but it provides a level of information to first responders that can keep you sleeping easy. In this environment your phone switch communicates with an outside ELIN management app database that you register each phone with. The switch communicates the exact phone the call originated from, and the E911 Enable system integrates and routes to the correct PSAP with the specific location including address, floor, wing and desk. This is the best possible scenario for 911 and is critical for large campuses where there is no "front desk."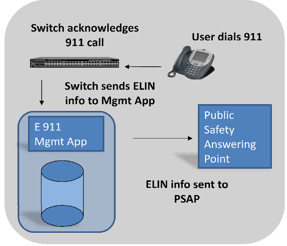 911 is a service that cannot be overlooked when planning or maintaining your phone system. You need to
keep your 911 strategy fresh, ensuring you are updating the database as phones and users move. There are strong solutions available; lean on your ShoreTel Support partner for any questions you have and make sure they are helping you think this through. We want you and your co-workers to be safe with the fastest emergency response possible, don't hesitate to reach out if you have further questions.
---
Next Article: 3 Keys to your ShoreTel Install
---
Author: Kyle Holmes