Over the next year, E-Rate will fund an additional $1 billion in new K-12 Wi-Fi deployments. This guaranteed money is in addition to the $2.4 billion initially budgeted, and the $1 billion added to the pot last year. IT Directors and Network Managers of K-12 school districts need to have a solid grasp on the E-rate process and plan carefully to take advantage of these funds. This article is written to address the following questions for K-12 IT professionals:
What is E-Rate?

What recent changes have been made to the E-Rate program?

How do I navigate the E-Rate process and avoid costly mistakes?

What is the E-Rate timeline?
What is E-Rate?
E-Rate is a federally funded program that provides significant discounts to assist K-12 schools and libraries to help fund telecommunications services and technology. It is administered by the Universal Service Administrative Company (USAC) under the direction of the Federal Communications Commission (FCC). The program determines which products and services are eligible for E-Rate, and then determines your school's discount level by the percentage of students in the district that qualify for free and reduced school lunches.
Eligible products and services are split up into two categories, simply named "Category 1" and "Category 2" (with W-Fi being covered by Category 2). Thechart below outlines the specific products and servicesthat are covered and by which category:

Your school's specific discount level will vary from 20% to 90% depending on percentage of students eligible for the National School Lunch Program (NSLP). This chart breaks down the different discount levels:

As an example, if you purchased a $300k Wi-Fi deployment and your school falls into the highlighted category above, the E-Rate program will cover 85% of that Wi-Fi deployment ($255k), and you will only be responsible for paying 15% of it ($45k). These discounts are significant, and it will be important for you to be aware of the guidelines throughout the process to be able to fully benefit.
What Recent Changes Have Been Made to the E-Rate Program?
Several changes have been made to the E-Rate program. Here is a summarized list of the major changes, as well as what these changes mean for you:
Big Change #1
The FCC has committed an additional $1 billion in 2016 for internal broadband connectivity, but at the time of this writing no funds are guaranteed for 2017. There is now just 1 funding event every 5 years, instead of the former "2 in 5." The intent of the FCC is to commit $150 per student for Wi-Fi to be used across a 5 year span.


What This Means For You?

This means that if you have a need for new Wi-Fi in the classrooms, you should not wait to act. You should submit an RFP this upcoming year.

It also means you need to plan ahead. When writing the RFP, write it with the next 5 years in mind, as you are not guaranteed any new funding before that time. You'll need to anticipate future use cases and connectivity needs, such as online content, HD video and web-conferencing, as well as the growing number and type of end user devices.
Big Change #2
As of this year, E-Rate now also considers managed Wi-Fi as an eligible service to be covered by Category 2 funding. Managed service expenses up to $30 per year per student are eligible. Note that with the managed service option schools will need to re-apply each year for E-Rate funding as the FCC does not allow multi-year funding commitments.

What This Means For You? This change allows you the additional option to contract with a service provider like Matrix Networks to install the access points and provide a hosted service to manage them remotely, without an on-premise controller. In some cases, this may even mean you rent the access points instead of purchase them, and pay a monthly amount for their operation and maintenance.

If your school has limited IT staff, hiring an expert to operate and maintain your Wi-Fi network may be an ideal solution. Note that with this option, schools will need to re-apply each year for E-rate funding since the FCC does not allow multi-year funding commitments.
Big Change #3
The maximum discount level for Category 2 funding has been reduced to 85%. If your school has 75% to 100% of its students on free or reduced lunch, you will still need to fund 15% of your Wi-Fi infrastructure.


What This Means For You? This means that you'll need to budget accordingly, if this reduction in maximum discount applies to you.
How to Navagate the E-Rate Process and Avoid Costly Mistakes?
The E-Rate process, with all of its forms and policies, can feel complex and overwhelming, but it doesn't need to be. I've provided a flow chart below on how the basic E-Rate process works, as well as outlined the process in 9 steps: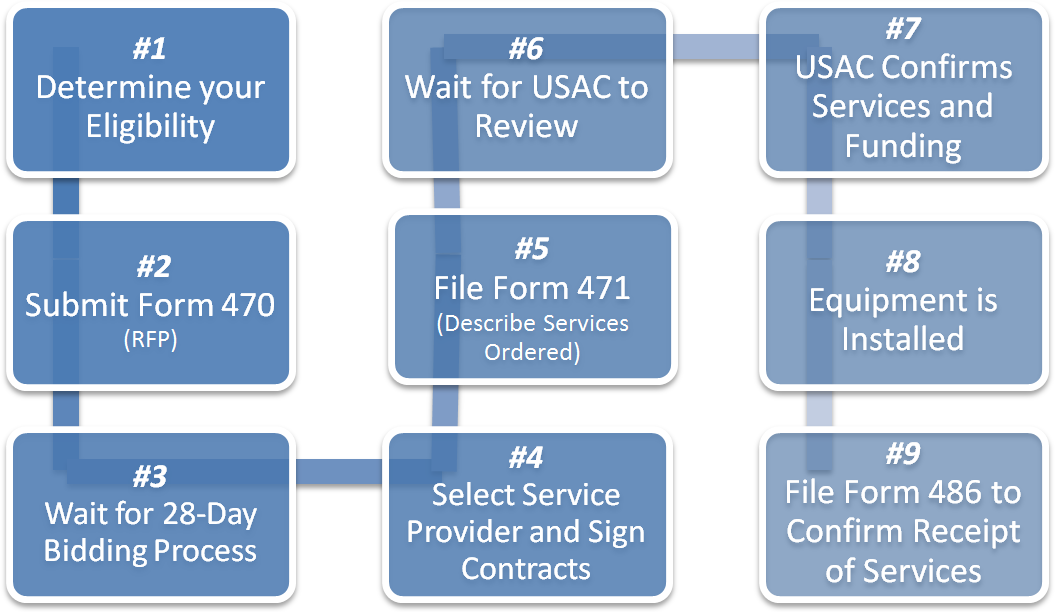 Step 1 – Determine your Eligibility
The first step of the process is to determine if the products and services your school needs are eligible, and if so, at what discount. The USAC Eligibility webpage is a good resource here.
Step 2 – Submit Form 470 (RFP)
When your technology plan is ready, Apply Online to create a form 470 which describes the services you are requesting and opens the bidding process for service providers. Service providers are not permitted to assist with your completion of Form 470. In submitting your Form 470, it's important to note that your service request will be disqualified if you exclude the RFP to a particular Wi-Fi product. If your preference is for Ruckus Wireless, for example, you must use the following verbiage: "Requesting Ruckus R700 access points, or equivalent."
Step 3 – Wait for 28-Day Bidding Process
During the 28-day bidding process, you are not required to take any action. Districts are required to wait at least 28 days after filing to select a service provider.
Step 4 – Select Service Provider and Sign Contracts
At the end of the bidding process, you and your team review the submitted bids and are required to respond to every vendor who submitted a bid. When evaluating bids, you must document the selection price with a bid score sheet. The price must be the primary factor effecting your decision. Other criteria include the experience of the service provider and their project management expertise. Once a vendor is selected, sign the contracts and go to the next step.
Step 5 –File Form 471 (Describe Services Ordered)
After you select and sign a contract, you will complete a Form 471 online to describe the services you are ordering, and from which vendor. That vendor is now allowed to enter into an engagement process with you on the Form 471. Allow them to assist you, especially with "Item 21" on the form (details of funding request) as this information must be accurate to successfully get through the review process.
Step 6 – Wait for USAC to Review
After you file your Form 471, along with the Item 21 attachments, the Program Integrity Assurance (PIA) will review the content of the form for completeness and accuracy. It's possible that they may have additional questions for you to answer. There is both an initial review and a final review, and the status can be tracked online. You get to select your preferred form of contact on Form 471 (phone, fax or email), in the case that additional information is needed from you for PIA to complete the review. You have 15 days to respond to PIA questions, but additional time can be requested, and this delays the process. The review process can take anywhere from 1-6 months.
Step 7 – USAC Confirms Services and Funding
Once the PIA review process has been completed, USAC issues a Funding Commitment Decision Letter (FCDL), which contains USAC's decisions on your funding request. If you disagree with the decision in the FCDL, you can appeal to USAC or the FCC. This letter contains important information for completing the rest of the of the application process, so it's critical that you review it carefully.
Step 8 – Equipment is Installed
Begin discussing with your selected service provider the details involved in installing the equipment and starting the services. Be sure to review the contract with your service provider and determine whether it will be you or your service provider that will invoice USAC for the discounted amount of the cost of the services. Once services have started, you should be ready to file the FCC Form 486.
Step 9 – File Form 486 to Confirm Receipt of Services
After equipment has been installed and your new services have started, your next step is to file a Form 486, which informs USAC that your services have started and invoicing can begin. Form 486 must be received and certified by USAC no later than 120 days after the service start date, or 120 days after the date of the FCDL, whichever is later. Filing late can result in a reduction in funding, so do take this deadline seriously. USAC will respond to your Form 486 with a Form 486 Notification Letter.
What is the E-Rate timeline?
The formal E-Rate timeline begins July 1 and goes through June 30th of the following year. For example, the 2015 E-Rate season is July 1, 2015 through June 30, 2016. As seen in the below timeline, the most common time to file your Form 470 is October through January, but they can be filed as early as July 1. Form 471's are then typically filed November through March 2016, and funding decisions are completed in July, August and September 2016. Equipment installations can begin as early as April 2016.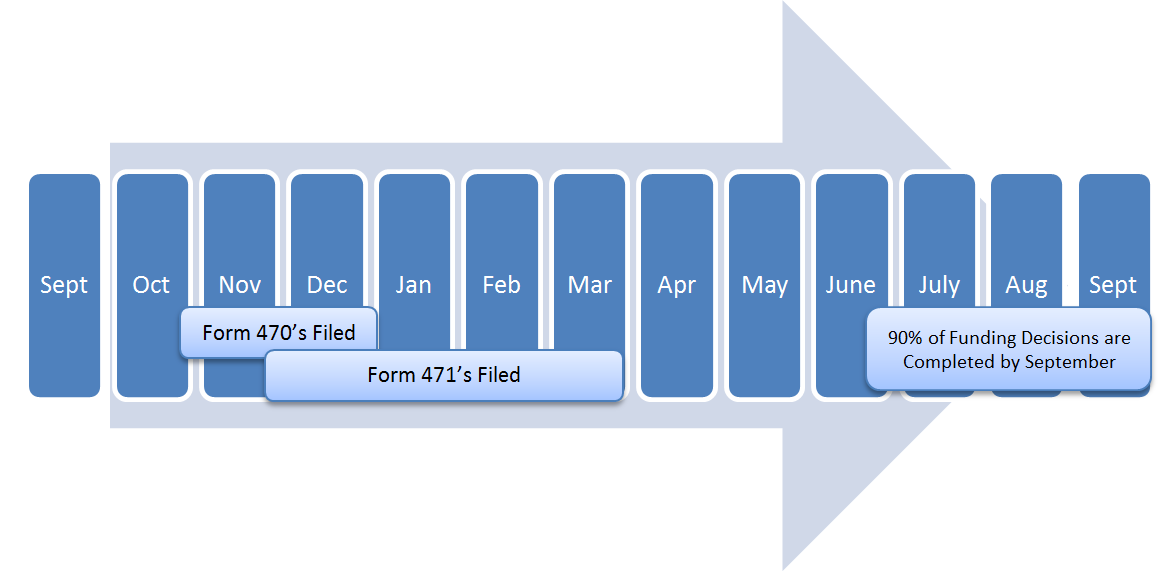 How Do I Select the Right Wireless Solution?
It can be a challenge when deciding the best wireless solution for your district. Keep in mind your particular technology needs and how the Wi-Fi will be used in the classrooms and district offices. I've outlined below a few criteria to consider when reviewing the bids that were submitted.
Most schools will need an 802.11ac WLAN. This is the newest Wi-Fi standard and is ideally suited for high-density environments like schools. Consider deploying Wave 2 AC access points over Wave 1. Wave 2 AC supports multi-user MIMO, which significantly improves performance in high-density environments by distributing the access point's spatial streams to multiple users at once.
The solution you select should be able to deliver significant signal-to-interference-plus-noise ratio (SINR) improvement and strong interference mitigation. These features measure how well an access point is able to transmit and receive data in spite of varying interference levels. The higher the SINR improvement the better your connectivity.
Schools typically prefer Wi-Fi that can readily adapt to changing environments, such as the number of students in a classroom, equipment moving in and out of a room, and devices that frequently change orientation from portrait to landscape and back again. When an RF environment changes, you don't want to constantly adjust the Wi-Fi with it, so make sure that your wireless solution does not only perform well under specific conditions.
You likely also need an easy, automated method to onboard new students and teachers to a secure WLAN. Some vendors charge additional per-student software licensing fees which would not be covered by E-Rate. Be sure to look for complete onboarding solutions that are included as standard features with their Wi-Fi.
At Matrix Networks we have been designing, deploying and supporting Wi-Fi solutions since 2001. We underwent our own wireless solution selection process in 2012 and conducted a host of internal tests before concluding that Ruckus Wireless out-performed its competitors. Ruckus Smart Wi-Fi is a secure, highly scalable WLAN solution that has proven itself in some of the most demanding Wi-Fi environments in the world, including FIFA World Cup soccer stadiums and hundreds of school districts.
Ruckus Wireless features patented beam forming technology, which deliver improved Wi-Fi performance and automatically adapt to changing room and RF conditions, as well as device polarization (portrait vs. landscape orientations). Ruckus equipment excels in high-density environments, and was the first wireless equipment manufacturer to ship Wave 2 AC access points with Multi-User MIMO. Its intuitive, comprehensive management allows schools to confidently deploy Ruckus Smart Wi-Fi to one site or thousands of remote locations knowing it will just work, and allows you to track network performance and usage from a centralized management system.
The new E-Rate funding guidelines are a major improvement and will accelerate the adoption of effective classroom technology and online school resources. Ruckus Smart Wi-Fi is ideally suited to School and District requirements. For more information on E-Rate, or Ruckus Wireless, please contact Info@mtrx.com.
---
Author: Tim Lopez