RingCentral is so much more...
As a species, we desire the feeling of connection, to each other, to our teams and to our communities. Evolving technology is playing a larger and larger part in fulfilling this need beginning with letters and telegrams, and now evolving to real-time communications like phone calls, messaging and video chat. As a consumer today, we expect to be able to easily connect to our friends and loved ones at little to no cost. The surprising reality of this revolution in communications is that despite the opportunity for huge productivity gains enterprise solutions haven't kept up. The majority of businesses are just now scratching the surface of this amazing technology.
There is no doubt that modern communications tools could make a huge impact on our businesses. There are however some significant differences in implementing and driving adoption of business solutions and those that are adopted in the consumer markets. In our minds, there are important driving factors for this lack of adoption that must be addressed to move our companies forward.
Enterprise Demands on Modern Communications
Embedded and simplified tools – the communications tools we use should be easily embedded in the existing platforms like CRM, ERP and email. This prevents users from having to seek the tools, instead providing them where they already are working.
Accessibility - users must be able to access the communications tools from the devices they use to communicate, PC, laptop, smartphone, conference room or traditional phone using whatever device they prefer for audio and video.
Ease of Use – Communications tools are being adopted when they are simple to use. Technology is moving a mile a minute, a user should be able to pick up the software with little to no training and take full advantage of the available features. Best practice has the tools in enterprise mimicking or integrating to platforms that are already adopted by consumers, like SMS, social media and FaceTime.
Security – Unlike the consumer facing tools, security in enterprise must be a primary focus. The solution must encrypt, protect access to and generally secure the private communications of staff with each other and clients.
Collaboration – Consumers are generally unconcerned with reviewing spreadsheets, sharing their desktop or allowing someone access to their computer for assistance. The need for these tools to be available at an instant, reliably with little to no effort will drive increased efficiency, reduce mistakes and improve morale.
"Software and digital devices are imbued with the values of their creator."

- Ellen Ullman
Enter RingCentral, not a phone system, but a modern communication, collaboration platform with a focus on integrations. If you have been following the trends in the business communications industry you have seen RingCentral's meteoric rise to the top. The product has racked up numerous awards including a perennial landing in Gartner's Magic Quadrant, Forbes 100 Most Trustworthy companies, Frost and Sullivan's 2017 UCaaS Company of the Year to name a few. RingCentral has taken the market by storm, the question we should be asking is "why?"
"97% of employees and executives believe lack of alignment within a team impacts the outcome of a task or project."
RingCentral Collaboration
At the core of RingCentral is a mission to break down the walls of communications in businesses by providing simple, powerful collaboration. Not only do we as human's desire connection, our work improves as we connect to others and tap into their unique knowledge and skills. Collaboration in the RingCentral world means we should be able to meet virtually just like we were physically in the same room. This is accomplished by combining video, voice, screen share, file sharing, SMS/IM while communicating objectives through shared tasks and goals. Combining these features is not a new concept, but making it easy to use, scalable and available on any device for any user is a real challenge. RingCentral's Glip messaging platform gives you one centralized place to truly collaborate on any of these fronts. Each RingCentral user can host video calls with up to 75 participants or conference calls, with up to 1,000 attendees. Although the natural tier limit is 75 participants, RingCentral has "large meeting" packages available to boost specific users up to 200 participants and 3,000 attendees, these options are technically add-ons and aren't included in the normal tiers. Additionally, these tools aren't limited to use within your organization, Glip can be extended to customers, vendors or partners with no additional cost, video conferencing is simple for people outside the system to use via a desktop or even a traditional room video conferencing unit. Most importantly these critical tools are available from any Internet connected device, anywhere, allowing true flexibility for staff to implement as they see fit.
"86% of employees and executives cite lack of collaboration or ineffective communication for workplace failures."

RingCentral Integrations and Accessibility
RingCentral aims to be more than a phone system, instead looking to deliver on the promise of what has been built for consumers by delivering integrated tools to enterprises large and small. The platform is built to be open with a strong API offering with strong documentation, a large developer community and internal resources in the form of a professional services development team. The vision RingCentral has for their platform being a communications plug-in minimizes application fatigue by not forcing users to learn, monitor and use yet another software application.
"Creativity has always depended on openness and flexibility, so let us hope for more of both in the future" - Siri Hustvedt
Using robust APIs, web widgets and existing integrations organizations can enable their existing software with communications and collaboration tools, embedding cleanly in SalesForce.com, Office 365 or Gmail, just 3 of their 100+ pre-built integrations. RingCentral has also embraced and integrated to the building blocks of the cloud, including OKTA, a single sign on and provisioning service. OKTA users can be used standalone or sync with Active Directory for password control, provision users, control mobile access and provide multi-factor authentication for RingCentral administrators. With RingCentral, users can operate in their natural environment with little to no training, don't need to remember separate passwords and administrators have measurable control over access. The ability for RingCentral to embed their technology in others platforms allows for better user adoption, improved ease of use and more value for the business.
RingCentral's platform flexibility isn't limited to what you choose to integrate to, it is also driven by the device the user chooses. The accessibility of RingCentral across all types of devices is a huge benefit for diverse organizations. Whether a user prefers use of their smartphone, laptop, PC, tablet or desk phone all the power of RingCentral comes along. Users can make and control calls, send SMS, participate in web and video conferences, check the presence of others and much more regardless of where they physically sit or what device they choose to connect with. Adoption in today's enterprise is dependent on this flexibility as users have grown accustomed to working at any hour from anywhere and expect their communications tools to keep up. Unfortunately, most enterprises have failed at this, allowing users to move off the communications platforms we secure, monitor and measure, instead allowing them free reign on personal devices. RingCentral gives the power back to the enterprise, enabling the user without giving up the data and control our businesses demand.

Security and Reliability
At Matrix Networks we understand that a phone system with all the right features isn't necessarily the best solution available. Reliability must be center to evaluation of any communications platform. The advantages cloud solutions provide for reliability are obvious; high availability datacenters, the best possible hardware, geo-redundant fail-over and carrier diversity are some examples of what would have been only available for the very largest enterprises, now available to all through the cloud. RingCentral takes this a step further with end to end monitoring of calls for performance and issues. The Quality of Service analytics allows administrators to drill down into problem calls and see what type of device they used, what ISP they are depending on with MoS scores, packet loss, latency and more. By providing this type of visibility, finding the rough spots becomes a cinch and identifying unreliable connections is simple. Reliability is about more than just unexpected downtime, RingCentral's commitment to maximum uptime requires them to perform upgrades to the solution without downtime, especially critical for 24/7 operations. RingCentral's 17 datacenters are kept at a 50% load or less to ensure failover between locations leaves no user out of the mix. Proven uptime and performance are a key reason RingCentral has landed in Gartner's Magic Quadrant on a consistent basis.
"If you spend more on coffee than on IT security, you will be hacked. What's more, you deserve to be hacked." — Richard Clarke
RingCentral takes security seriously and has made investments to ensure customer data remains safe. The first step is ensuring the physical infrastructure is secure, to this end RingCentral has deployed their solutions in SSAE 16 and ISO 27001 audited data centers. After securing the physical equipment vulnerability scans, intrusion detection and toll-fraud analytics are used to identify potential threats allowing RingCentral to close the gap. RingCentral is PCI DSS 3.1 and HIPAA compliant and will even sign a BAA for those that need it. The data packets are encrypted from end to end using SRTP and TLS, eliminating the risk of man in the middle type attacks. Having this level of security is great unless the user itself leaves themselves exposed with an open device or loss of a password. Using OKTA RingCentral can create a single sign on environment and even require multi-factor authentication for those that really want peace of mind. Security is often overlooked when evaluating a communications platform, with RingCentral that is no problem, the solution is designed to take security concerns off the table.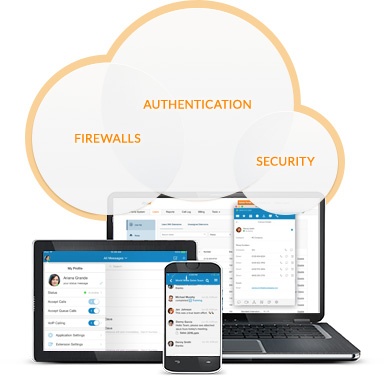 RingCentral Partner Enablement
"I think it's important to be honest with yourself about what you want and it's important to be honest with your partner about what you need." – Alison Brie
Having a system that can provide lock-down security, incredible collaboration tools and integrations to a wide set of applications doesn't help much if there isn't a team to lead the way to the promise land. RingCentral recognizes they can't be experts in everything related to their platform. This is where the RingCentral partner comes into the picture. At Matrix Networks, we assist our clients as they make the transition to cloud, ensuring staff is properly trained, the network is prepped for the load and your Internet connections and firewall settings are optimized. Our team focuses on your objectives, and builds the system specifically for your environment. In addition to this, using RingCentral's developer network, API's, and pre-built integrations we assist clients with customizing the software to improve processes, drive adoption and connect with their clients. Our team is experienced with how to price and configure the RingCentral platform giving clients the peace of mind that they received the best possible price without sacrificing on the solution. After the RingCentral deployment is complete, our work doesn't stop, we continue to support our clients with ongoing training and troubleshooting of any challenges that my present themselves. Working with a partner ensures you get the service and experience you need at price that fits your budget.
---
---
Author: Kyle Holmes