Selecting a new cloud based phone system is complex, with many options, including regional providers, international pure cloud offerings and traditional phone system providers modified offerings. These products have broad overlap, making it difficult to determine the unique value of the different platforms. Our job at Matrix Networks is to help our clients understand their communication needs and match them with the appropriate provider. In this article we focus on 8x8, an industry leader consistently ranked at the top of Gartner's magic quadrant.
8x8 is the Complete Solution for Businesses of all Sizes
When compared to other solutions, 8x8 offers a total solution that allows clients to work with one company for all their communications needs. Unlike their competitors they have built or purchased their offering without depending on strategic partners for applications like Video and Contact Center. The 8x8 product provides a single platform for voice, video, contact center, analytics, chat/SMS and mobile client. Not only can they check the boxes on each of these critical features, their solutions are equal or better to the standalone products that compete with them. This dedication to in-house ownership of code is a big win for clients, allowing 8x8 to continue furthering integration and features while avoiding application fatigue (too many applications for end-users to manage.)
8x8 offers two Contact Center models, allowing clients to choose a consumption model for informal workgroups or a more traditional contact center for high volume environments. The Contact Center includes all the bells and whistles, supporting integration to CRM, ability to queue and report on telephone, email or webchat, skills based routing, co-browsing and even embedded work force management. 8x8 has shown determination in building contact center solutions that are feature rich, simple to use and cost effective. When compared to any Contact Center offering on the planet, 8x8's offering is competitive and provides distinct advantages.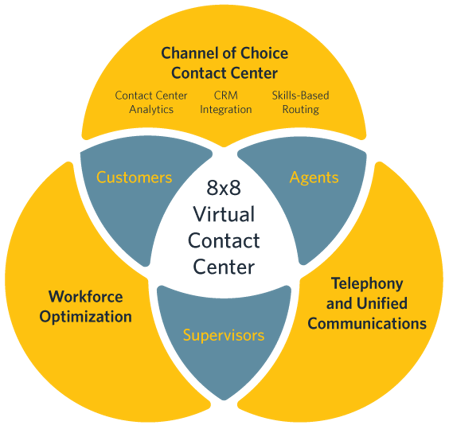 Flexible 8x8 Phone System Pricing
At the center of 8x8's pricing philosophy is transparency. The packages are simple to understand, especially when compared to less flexible competitors. They also include all taxes and fees on their proposals, which typically represents 20-40% of a cloud phone system cost. Understanding how pricing works with cloud based Unified Communications can be a challenge, if you want to learn about pricing across the broader industry we have that info here.
Choice is a common theme across the 8x8 platform, giving clients a variety of tools at their disposal. This belief in options extends to their pricing structure. 8x8 offers low cost metered extensions for low usage phones, a basic UC profile, a full-fledged UC profile and two contact center pricing models. Client's are free to look at their staff and determine profiles and costs that match the needs of the specific job and employee. By working closely with a solution provider, our client's control cost, paying for only the features they need for the employees that need them.
Long distance charges change when moving to a cloud based solution. Calls between users, inbound calls and outbound calls in the country are traditionally no cost. With 8x8's Virtual Office extension users are not limited to free calling in the United States. Calls to Puerto Rico, Guam, Canada, France, Ireland, Spain, the UK and Virgin Islands are all no cost. If these countries don't cover your calling area no worries, 8x8 offers their global extension profile with free calls to 40 different countries.
Beyond flexible profiles, 8x8 is not a company that tries to make money on the physical handsets, allowing you to purchase them at an aggressive price or a rent to own option. The more traditional model is to charge a monthly fee for each handset owned by the provider, typically $5-$10 a month. An inexpensive SIP based phone typically costs under $200 and the average client remains on a hosted phone platform for about 7 years. For a client with 100 handsets they will pay an additional $22k in the standard industry model. Just another example of 8x8 putting client needs first.
Download our Complimentary Cloud Phone Comparison Guide
Featuring 8x8, RingCentral, and ShoreTel
8x8's Global Presence
Whether you are a single location benefiting from 8x8's local calling to different countries or a multi-national corporation, 8x8 is ready to deliver. Their infrastructure stretches across 8 countries and 4 continents with more than 20 datacenters worldwide. They can provide local numbers in 80 different countries and toll-free in 120+. With their global reach clients can roll out a common communication platform to every employee without concern for location, one bill, one administrative platform, one support structure.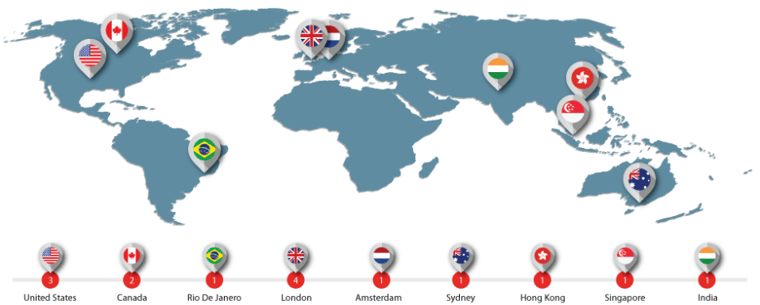 8x8 puts Security and Compliance at the Forefront of Great Tech
Security on a traditional premise phone system is relatively simple as most equipment is safely behind the firewall. The cloud solutions don't have this luxury, with shared data infrastructure traversing the public internet. Because of this new wrinkle, understanding how a cloud phone solution addresses security is critical. The safest scenario is working with a provider that complies with the more stringent security requirements required for HIPAA or PCI-DSS. 8x8 has made security and compliance a must in the industry by meeting the expectations of HIPAA, PCI, CPNI, FISMA, Privacy Shield Framework and many more. The traffic is encrypted in transit and at rest, providing peace of mind for those that handle sensitive data. Security is an often-overlooked piece of the cloud UC puzzle, but can be very costly if sensitive data is stolen or a regulatory violation is detected. With 8x8, client's no longer worry about security concerns and can focus their energies on more impactful goals.
Integration is Key for 8x8
As technology continues to impact the way businesses operate we have become incredibly tied to the databases that house customer data, whether CRM, ERP or anything in between. These tools are a center for managing the customer experience, improving internal processes, enforcing accountability and much more. By integrating platforms like SalesForce, Netsuite and FreshDesk, 8x8 clients enjoy better visibility into callers needs, faster handling time and critical communications tracking. By building connections between your core database and your phone system it is possible to pop up the customer account based on a wide range of information, automate journal notes or ticketing, automate outbound dialing lists or just dial out of the application or browser. The practice of integrating these tools is becoming simpler with broad sets of APIs available from 8x8, allowing for creativity in how we simplify processes and improve the customer experience.
8x8 Leverages the Partner Community
When evaluating the trends in phone system deployments, a major shift in the deployment model is taking place. Traditional premise based phone systems are typically deployed by a local partner. The local partner provides onsite expertise, experience in the local market, a broader understanding of available technologies and network. These local companies aren't giant corporate entities, they are local businesses, giving them the ability to provide a personalized experience. Many cloud providers are attempting to forgo local partners in an effort to control the deployment process from start to finish and keep the upfront costs low. While this sounds logical the results are messy, turnover in their teams is high, knowledge of network requirements is lacking and it is very expensive for onsite support so most go without. 8x8 has recognized this problem and is quickly growing their partner channel, providing training, tools and processes. Here at Matrix Networks we have embraced their programs, and are part of the first wave of certified installers in their new program. We love their commitment to improving not only their product set but also the experience of each client. By allowing strong partners the ability to provide their expertise, 8x8 can focus on what they do best, building the strongest Unified Communications platform in the cloud.
Designing, deploying and supporting our clients is our passion. With 8x8's cloud platform Matrix Networks has found a partner with incredible products, fantastic people and a strong vision for the future. We are excited to share this solution with our clients, designing specifically for their environment. We love integrating core platforms, improving interactions with team members and clients, simplifying collaboration and wowing our clients. 8x8 is a perfect solution to deliver these results.
---
---
Author: Kyle Holmes