On-Premises Phone Systems
The traditional path to business telephony is owning and maintaining your hardware, whether you have an in-house IT staff or if you are working with a communication partner like Matrix Networks. Although Cloud Phone systems are the rage, for many organizations an IP Phone System is a better fit. The long term costs are typically much lower and the control remains in your hands. Matrix Networks' strategy from day 1 has been to make our client's sing our praises by shooting straight, exceeding expectations and technical prowess. We love helping our clients migrate from legacy hardware to new lightweight software applications that improve their work lives.
ShoreTel (now Mitel) On-Premises
In selecting an IP Voice solution, Matrix Networks wanted to find a partner who offered a Unified Communication solution that adapts to any company's culture, processes, applications, and infrastructure. Most importantly, Matrix Networks wanted a partner who puts people first. Enter ShoreTel.
ShoreTel provides a premise based solution that is scalable and will grow with your company. The system is manageable, easy to administer and learn so you can stop with all the telephony headaches. The single image architecture is unique to the IT world and delivers unprecedented reliability. Lastly, ShoreTel boasts the industries lowest total cost of ownership – a significant factor when it comes times to justify the expense. Preparing for a deployment is critical, ifyou would like some tips you can scope out our blog post on the subject. Check out the full length on-site demo below to see how ShoreTel can work for you.
Why ShoreTel (now Mitel) On-Premises?
ShoreTel continues to be the logical choice for mid to large enterprises. It is flexible, scalable and highly resillient. The solution has continued to develop and now offers cloud based, hybridization through their ShoreTel Connect release. The Connect release offers a new desktop client that truly embeds all traditional UC in one place from web collab and IM to traditional call control. ShoreTel is continuing to lead the way with innovation and a focus on customer experience.
Built-in-Ease
From deployment to administration, implementing your new phone system is simple with ShoreTel and Matrix Networks. Users immediately experience the simplicity and ease of use that is built into both the phone hardware on their desk as well as the software on their workstation. Tying the two together delivers an intuitive user experience that increases productivity, enhances efficiency, and fosters team collaboration.
Peace of Mind
ShoreTel's distributed architecture alone rises above of the competition, delivering 99.999% availability out of the box with 100% peace of mind that your connection to customers, vendors, and opportunity is always there. The unique on-site, appliance-based, IP PBX platform is designed to have no single point of failure and to deliver industry-leading quality of experience with the lowest total cost of ownership ( TCO ).
ShoreTel (now Mitel) System Architecture
ShoreTel Voice Appliances
The ShoreTel Phone System is designed for simplicity and scalability. ShoreTel appliances are the core of the ShoreTel system, running Linux or VXWorks, they are solid state with a mean time between failure of better than 13 years. Each appliance provides a certain number of IP resources, allowing you to connect to carrier phone lines, IP phones, analog devices and overhead paging. The capacity of each appliance ranges between 30-500 users on a 1U half-width device. The ShoreTel appliances can be added at anytime allowing our clients to grow from 5-20,000 users without a hardware upgrade. By providing an additional spare appliance anywhere on the network, if an appliance fails, the phones automatically register to the spare appliance creating seamless failover.
ShoreTel Director
Beyond the appliances, ShoreTel phone systems require at least one headquarters Microsoft server. The server is supported in a VMWare, Hyper-V or traditional stand-alone server deployment. The ShoreTel Phone system houses all administration, workgroups, voicemail and software clients in their ShoreWare Director platform. Changes made to the system on the ShoreWare Director automatically push out the updates to each appliance allowing the system to continue operation in the event the Microsoft server fails. Voicemail can be backed up using Distributed Voicemail Servers, the voicemail points first at these servers and then fails up to the ShoreTel's Director server.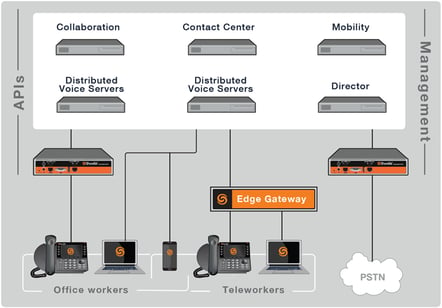 Optional Tool Sets
ShoreTel's design grants clients flexibility to deploy the advanced feature sets on-demand with appliances, stand-alone servers or in a VSphere in environment. ShoreTel Mobility, the software enabling smart phone users full desktop functionality with an app, is an example of an add-on component you may consider. The Collaboration appliance/server gives users the ability to Instant Message with other users and provide audio and web conferencing. This platform is deployed at no cost on a VSphere cluster giving users IM out of the box, the web/audio conferencing is a low-cost license by a concurrent port usage. A relatively new add-on is the Edge Gateway, allowing both phones and ShoreTel Connect Software users to work anywhere they have internet connectivity. The Edge Gateway uses WEB RTC to launch VPN tunnels to the core system.
Key Benefits and Features
Mobility – Stay connected anywhere with ShoreTel Mobility, an application that gives mobile workers the same dynamic features they'll find in the office, available on their mobile device
Presence – Allow end users to see who is available, on a call, in a meeting, or out of the office
Instant Message – Improve efficiency and collaboration with intuitive IM features
Conferencing – Brilliantly simple solutions for web and audio conferencing make collaboration stress-free
View More ShoreTel Educational Content