One Phone System. Three Delivery Models. You Choose...
On-premise telephone deployments provide a level of security and assurance that has been difficult to relinquish among IT administrators. However, the scalability of virtual phone systems delivered completely via the cloud is too enticing to pass up. So what are administrators and business owners to do with so many options? Enter ShoreTel Connect. This cutting edge hybrid model allows the flexibility and convenience of a hosted model with the security and reliability of traditional on-premises systems. ShoreTel Connect: an easy-to-use communications platform that works as hard and fast as you do. Watch now.

ShoreTel Connect
Owner maintains and controls the system

Cloud and onsite deployment features

What's all the Hype About?
Want a hosted, managed service from the cloud? Prefer to maintain onsite control? Want a mix of both? ShoreTel Connect is the one business communications platform that does it all.
ShoreTel Connect Desktop Client
Unique Common Platform, User Experience for Cloud, Onsite and Hybrid Unified Communications
Let's talk user experience. After all, a phone system is only as good as the user adoption levels correct? No matter how strategic an architecture design is or even how reliable the system is in general, if your end users can't use the system, no one is going to be happy. The new ShoreTel Connect Phone System provides one, easy to use, intuitive experience for every user, on every device, from any location. Let's start by taking a look at the desktop client as it appears after start up and through expansion.

ShoreTel Connect Conference Bridge
Brilliantly Simple Design for Enhanced Collaboration
The new ShoreTel Connect client is setting a new standard for a natural, collaborative user experience by leveling the playing field of enterprise communications and personal communications. In One click, users can escalate a conversation from an Instant Message to a call, to an online meeting, and then to a web desktop share and video. The new conference bridge includes a handy agenda timer and integrations to outside tools like DropBox for easy file sharing. Pictured below is a preview of the new software in action: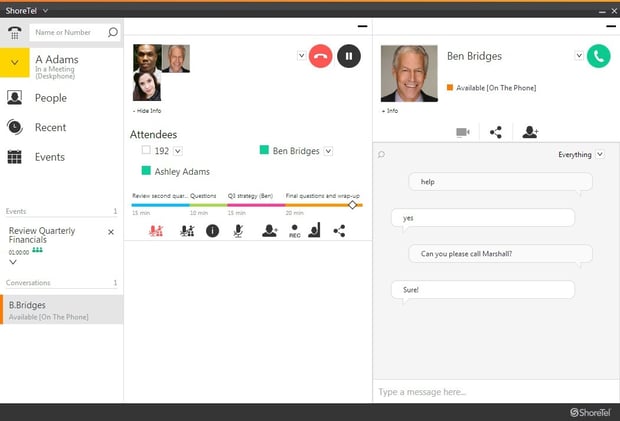 ShoreTel and Matrix Networks
Choosing what phone system is right for your organization is not an easy task. There are empty promises strewn across the market and it is up to you to see through the fluff and determine which solution makes the most sense for your IT environment. Fortunately, you already have an ally to rely on. Serving the Pacific Northwest for over 30 years, Matrix Networks was improving business phone systems long before the advent of Internet telephony (Voice over IP) technologies. It is this experience that has paved the way for the modern choice for Voice - ShoreTel Connect - a system so brilliantly designed it allows you to choose your deployment model yet maintain an identical interface across all user experiences. With the rollout of ShoreTel Connect, ShoreTel has maintained there position as the go to solution in the small and mid market of businesses and organizations. Matrix Networks is proud to be Portland's top choice for ShoreTel Phone System Partnerships.