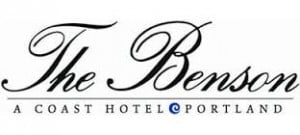 The Benson Hotel in Portland, OR was founded in 1913. It features elegant European design and a host of modern amenities. U.S. Presidents and CEOs have made The Benson their home away from home for over a hundred years. At 287 rooms, the hotel is one of the largest in the Portland area and is known for its charm and timeless style.
The Situation and The Challenge
The Benson Hotel was using old and very outdated wireless hardware to support their guest and meeting rooms. As every hotelier knows, wireless internet access has become a must. It is no longer an "amenity" like free breakfast; it is a necessity like hot water. Business travelers, families, and vacationing couples all expect to have fast, stable, reliable WiFi when they travel.
In addition the hotel's previous guest support was not local and not very effective at helping guests with their connectivity issues. When large groups would use The Benson for meetings and conferences, the network would often stall under the heavy demands of the groups and the guests. The older gateway also made bandwidth management challenging.
The Solution
Use Ruckus Wireless equipment for the network, including a Zone Director, in conjunction with an RG Nets gateway
Leverage the existing cable plant to distribute WiFi
Enable focused and flexible reporting for the management team to review guest tickets and bandwidth usage
Ensure no single point of failure through mesh technology
Matrix Networks provided a full Ruckus wireless solution with an RG Nets gateway to bring The Benson wireless technology up to date. The Ruckus hardware for both guest rooms and for the meeting spaces allows for more users to connect quickly to the wireless network.
By using the existing cabling at the hotel, Matrix was able to keep the cost down. Working with the hotel engineering team during the installation allowed our technicians the flexibility they needed to make changes on the fly and made the installation truly a team effort.
The RG Nets gateway allows the hotel to set up custom splash pages so they are able to give their conference attendees a more personalized experience. The gateway also allows for dynamic bandwidth shaping – the more options the hotel management team has at their fingertips, the better the guest experience.
The Benson also chose Matrix Networks to be their guest support company. Our local presence along with the expertise that our technicians bring to the table gives them a peace of mind that their guests and conference attendees are being well taken care of when they need our assistance.